27
Jul
Your air ventilation system Can prevent from COVID 19?
We are going through a very worse time of our human life. We are facing the Pandemic Situation of COVID – 19.
According to WHO Jurnal
Modes of transmission of the COVID-19 virus
Airborne transmission is different from droplet transmission as it refers to the presence of microbes within droplet nuclei. Which are generally considered to be particles <5μm in diameter, can remain in the air for long periods of time, and be transmitted to others over distances greater than 1 m.
Are we safe in our Office, Hotel Room, Shopping Malls where air ventilation is controlled using HVAC equipment like Air Handling Unit (AHU), Fan Coil Units (FCU), etc?
Normally In Hotel Rooms and Shopping Malls are using 20μm Bag Filters and 10μm Pre Filters. Most of the areas are omitted in air circulation.
But the current Scenario shows us the usage of MERV 13 Filters, UV Light, and Duct Bacterial Ionizers. But Nowhere we get information that really hotel rooms are cleaned, is really hotel rooms are individually using air filtration system as per WHO guideline.
Below I have tried to create a simple air circulation model, that how should be AHU, FCU Should be installed with MERV 13 Filters, UV Filters.
The above image is the simplest Air Flow Diagram with UV Filter equipped.
But the installation of MERV 13 filter not work, need proper maintenance of the same, including maintenance of AHU, FCU Coils with Chemical and Sanitizers.
Our Dedicated and fearless team engaged in supporting Operation, So everyone could stay safe.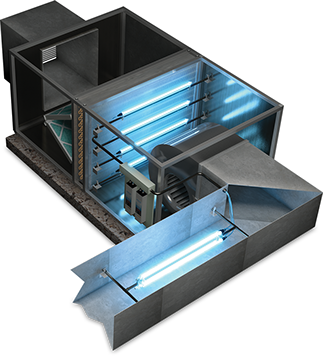 MERV 13 Filter AHU and Ducting With UV Filter
Your Querry
[contact-form-7 404 "Not Found"]